October 7, 2006
IE7 Imminent: Plug-in detection woes
According to Microsoft's IEBlog, IE7 is coming this month...Are you Ready?, with auto-update kicking in a few weeks after the download is made available.
Most of the expected compatibility issues are in CSS filter hacks that will no longer work in IE7. However, in working with the IE 7 Release Candidate browser this week, I've found a couple non-CSS-related issues that need to be dealt with before our clients start running across these themselves.
One standing issue is with AWStats installations that report on WMP plug-in penetration, and the other is a brand new but very similar issue that now affects both QuickTime and Windows Media-using clients and detection/degradation strategies.
The core problem is a security change to IE 7 that deprecate formerly recognized ActiveX controls as "safe" to use. When affected plug-in detection scripts are run, IE 7 will complain with somewhat scary-looking security alert and information bar pop-ups: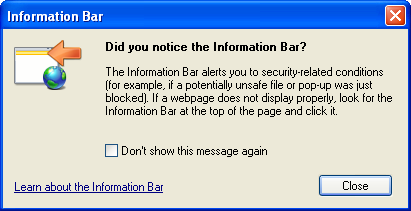 Clearly, long-used plug-in detection scripts for QuickTime and Windows Media Player is no longer a transparent-to-the-user process.
I'm still looking for a solution for transparent QuickTime detection, but we can fix the Windows Media detection triggers in both AWStats and our plug-in detection code by swapping out:
"MediaPlayer.MediaPlayer.1"
-- with --
"wmplayer.ocx"
The above changes the detected baseline from the now-considered "unsafe" WMP 6.4 to a "safe" WMP 7.
We can also pacify AWStats so that it no longer causes IE7 to throw a fit over QuickTime detection, but at the cost of giving up gathering QT metrics, by opening awstats_misc_tracker.js and commenting out the line:
var TRKmov = awstats_detectIE("QuickTimeCheckObject.QuickTimeCheck.1")
As for QT detection and degradation code, until a suitably compatible, new transparent detection scheme is found, we might want to change our code to test for QT only on non-IE7 browsers.
Questions? Bring 'em!
Posted by Lewis Francis at October 7, 2006 12:04 PM