March 24, 2007
TV Networks Move to a New Online Video Platform?
Robert Reinhardt announced on his blog this week that ABC.com has switched to a new video platform from Move Networks.
The Move Media Player plug-in and streaming solution uses the VP7 codec from On2, whose VP6 codec is used in Adobe's Flash 8. On2 claims that VP7 scales from dial-up to high-definition, and the qualitative difference for broadband large video in ABC's player is striking.
It's fascinating how Move Networks appears to have approached the market. They've clearly targeted large video content producing organizations with huge audiences, and have built tools that would be attractive to their marketing divisions. I have no idea what all this costs, but Robert Reinhardt's blog posting suggests that, at least for this market, the Move Networks solution scales more affordably than the competition.
This is also the first time in recent memory that a new plug-in enters the market in a way that truly has a chance to succeed. Unlike past practices of browser and OS bundling that, along with ActiveX auto-install, made Flash Player a near ubiquitous presence, we may see adoption of the Move Media Player driven top down from the content providers that benefit the most and hold the largest cards in online video. ABC, Fox and The CW now rely on Move Networks, can the rest be far behind? Can YouTube?
However, I'm not sure where or if smaller organizations fit into Move's model. For instance, if your client is not currently selling advertising, paying for streaming services and the bandwidth costs that come with high-traffic, broadband video, and doesn't have content users would be willing to jump through hoops, however slight, to get at, Flash 8+ video would still be the best route for those clients to take -- but best keep an eye on Move Networks.
March 21, 2007
tcpflow for MacIntel
I often need to know what requests/responses web and network-aware applications are sending back and forth. For example, is a custom 404 page properly returned with a 404 response code, is a video mime type properly configured, or, just what is that cookie, header, GET or POST value, anyway?
There are lots of tools that can provide this information (for complex web apps, you might want to check out Paros Proxy), but for quick and dirty checks, my longtime fave is tcpflow.
tcpflow is a free unix command line application written by Jeremy Elson and released under the terms of the GPL that traces tcp/ip traffic flowing to and from your computer. You can monitor ethernet, Airport, modem/PPPoE and localhost traffic, restrict stream recording to specific ports or machines, protocols and more, having it print to your Terminal window or file for analysis.
Over the years it has helped diagnose many sticky issues, and I desperately missed it when I moved up to a MacBook Pro. Where previously I had used Mark Liyanage's PPC-only binaries, I couldn't find MacIntel versions elsewhere, and until quite recently hadn't the spare cycles to compile from the source myself (once I got around to it, btw, MacPorts made it fairly pain-free).
I suspect there are others looking for a MacIntel binary, so, in the spirit of Mr. Liyanage, I'm posting my tcpflow .021 installer for MacIntel systems.
This version is strictly for Macs with Intel processors; the installer will refuse to run on anything else. If you are using a PPC Mac and I've managed to pique your interest, Mark Liyanage's tcpflow .021 binaries for OS X.2 and X.3 are still available. IIRC, the Panther version also worked on Tiger.
Mark also has a very helpful tcpflow overview which will explain much to the uninitiated. An online version of the tcpflow man page at the tcpflow author's site lists the nitty-gritty.
Usage is described in the man page; basic operation for tracing http traffic is:
- Ethernet connectivity
sudo /usr/local/bin/tcpflow -c -i en0 port 80
- Airport connectivity
sudo /usr/local/bin/tcpflow -c -i en1 port 80
- Modem/PPPoE connectivity (not tested)
sudo /usr/local/bin/tcpflow -c -i ppp0 port 80
- Localhost (doesn't seem to work -- see comments)
sudo /usr/local/bin/tcpflow -c -i lo0 port 80
CTRL-C terminates the app and returns you to the shell.
Tip: Add /usr/local/bin to your $PATH to run tcpflow from any location. I elected not to attempt to have the installer do this as many of you may not be using the default shell.
Hope some find this useful. You can leave questions or report installer problems in this entry's comments.
March 4, 2007
Stats Junky
I confess, I am a stats junky. I constantly check our sites, looking for trends in viewership; what platforms, browsers, plug-in / plug-in versions, screen-res and the like are people using when they visit?
If you, too, have the stats jones, happen to have a Google Analytics account over which you want to focus your obsession and are running OS X.4 (aka Tiger), head on over to Rob Scriva's Dashalytic's site and download his free Dashalytics Dashboard widget. Your fix could be just an f12 press away.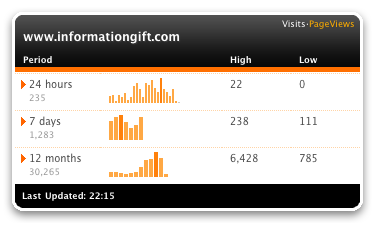 After configuring Dashalytics with your site url, Google Analytics username and password, the widget will check your Analytics account every five minutes, returning numbers and graphs displayed in daily, weekly, and yearly periods. You can toggle between page views and visits, and periods can be expanded to show the entire range with the peak interval highlighted.
Need to monitor more than one site? Simply drag another Dashalytics widget onto your Dashboard.
If you have a Google Adsense account, there's a widget for that, too. Widsense taps into your Adsense account to return the last three days and month's impressions, click-throughs and revenue for those time periods.
Sadly, Widsense's author has discontinued development and his website download links point to the wrong files at the moment -- however, I gather a Japanese developer named Chi may keep the project going, at least, it appears he has patched the most recent version to work around some Adsense changes that busted previous versions. Chi's version can be found on: χ square::Widsense.