March 4, 2007
Stats Junky
I confess, I am a stats junky. I constantly check our sites, looking for trends in viewership; what platforms, browsers, plug-in / plug-in versions, screen-res and the like are people using when they visit?
If you, too, have the stats jones, happen to have a Google Analytics account over which you want to focus your obsession and are running OS X.4 (aka Tiger), head on over to Rob Scriva's Dashalytic's site and download his free Dashalytics Dashboard widget. Your fix could be just an f12 press away.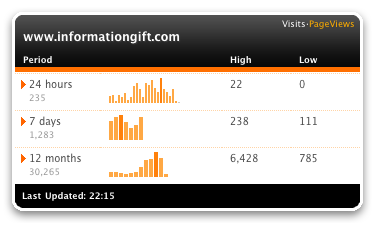 After configuring Dashalytics with your site url, Google Analytics username and password, the widget will check your Analytics account every five minutes, returning numbers and graphs displayed in daily, weekly, and yearly periods. You can toggle between page views and visits, and periods can be expanded to show the entire range with the peak interval highlighted.
Need to monitor more than one site? Simply drag another Dashalytics widget onto your Dashboard.
If you have a Google Adsense account, there's a widget for that, too. Widsense taps into your Adsense account to return the last three days and month's impressions, click-throughs and revenue for those time periods.
Sadly, Widsense's author has discontinued development and his website download links point to the wrong files at the moment -- however, I gather a Japanese developer named Chi may keep the project going, at least, it appears he has patched the most recent version to work around some Adsense changes that busted previous versions. Chi's version can be found on: χ square::Widsense.
Posted by Lewis Francis at March 4, 2007 5:19 PM
TrackBack URL for this entry:
http://informationgift.com/mt/mt-tb.cgi/118
Listed below are links to weblogs that reference
'Stats Junky'
from
Information Gift
.